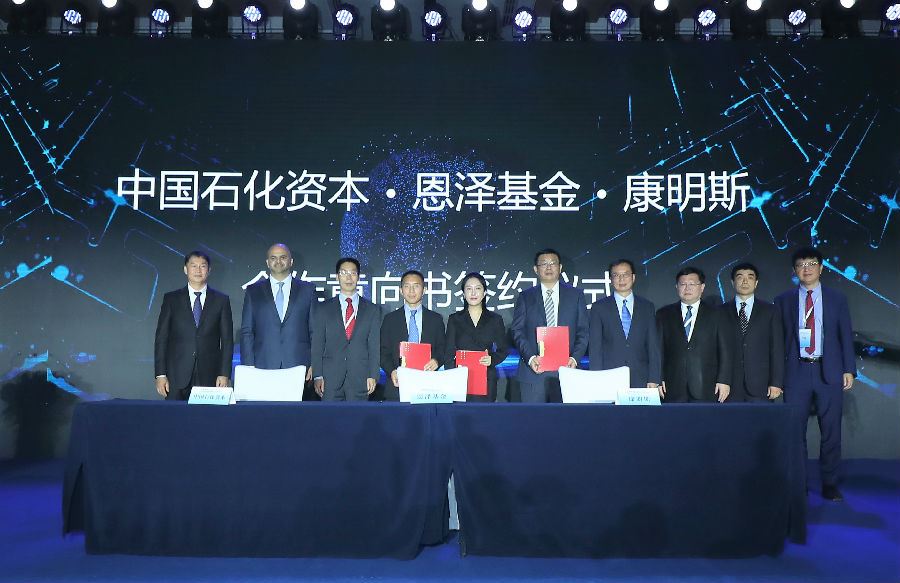 Sinopec Capital and Cummins Jointly Promote Green Hydrogen Industrial Development
October 10,2020, BEIJING - Sinopec Capital Co., Ltd. (hereafter referred to as Sinopec Capital), Enze Haihe (Tianjin) Private EquityLLP (hereafter referred to as Enze Fund), and Cummins (China) Investment Co.,Ltd. ( Hereinafter referred to as "Cummins China") signed a Letter ofIntent (LOI). The three Parties will be allied to complement respective strength and resources, with an aim to jointly promote hydrogen production technology based on water electrolysis and drive the growth of hydrogen energy industry.
Green hydrogen can be produced from renewable energy through water electrolysis, which generates zero-pollution across the whole value chain. Increasing the utilization of green hydrogen is the future trend for hydrogen fuel cell vehicle development.
According to the LOI, Sinopec Capital and Enze Fund will provide abundant market and financial resources. In the meantime, Sinopec's resources and capabilities in supply chain optimization, sales and marketing networks will also strongly support the future hydrogen production technologies.
Sinopec Group, as Parent of Sinopec Capital, has been stepped up its deployment in recent years in hydrogen energy industry, including hydrogen production technology, hydrogen fueling stations, hydrogen fuel cell vehicles (HFCV) and hydrogen storage materials, etc. The hydrogen production volume of Sinopec exceeded 3 million tonnes in 2019, accounting for 14% of the national total. Sinopec has built and operated a number of demonstration fueling stations to supply both fuels and hydrogen in Guangdong, Zhejiang, and Shanghai, etc. As official oil and gas partner of 2022 Olympic and Paralympic Winter Games in Beijing, Sinopec is committed to work together with Beijing Organizing Committee for the 2022 Olympic and Paralympic Games to supply hydrogen energy.
 "As important clean energy in the future, hydrogen is of high strategic significance and broad growth prospects. We hope all the parties would strengthen cooperation in hydrogen energy application to achieve mutual benefit and win-win results." said Huang Wensheng, Vice President and Board Secretary of Sinopec Corporation, President of Sinopec Group Strategic Business Unit of Capital and Financial Services, and Chairman of Sinopec Capital.
Cummins has a heritage of advanced technology and engineering capabilities and has accumulated over 25 years of technology and experience in the green hydrogen area, especially the electrolyzer design, manufacturing and fuel cell solutions. Its global layout in hydrogen energy market and the business and service network will ensure the advanced technologies and engineering supports.
Cummins Vice President Nathan Stoner said, "Together with Sinopec, we look forward to continuing to explore and develop potential opportunities for hydrogen production to meet the diverse set of market and application needs, while we continue to invest in and expand the development of hydrogen related technology."
About Sinopec Capital & Enze Fund
Sinopec Capital was founded in 2018 as a subsidiary of Sinopec Group with RMB10 billion initial paid-in registered capital. While identifying strategic opportunities through financial investments, Sinopec Capital strategically focuses on emerging industries including new energy, new material, advanced smart manufacturing, energy conservation and environmental protection, big data and artificial intelligence, supporting  industrialization of sci-tech results, and serving as Sinopec's new engine to foster new momentum for transformation and sustainable development.
Enze Fund, with a total subscription of RMB 2 billion, is launched by Sinopec Capital as flagship platform and supports Sinopec's future strategic presence in emerging markets, especially in the hydrogen energy industry. The principal limited partner ("LP") of Enze Fund is Sinopec Capital. Other LPs are China Manufacturing Transformation and Upgrading Fund, Tianjin Haihe River Industry Fund and Foshan Nanhai Financial High-tech Zone Investment Holding Co., Ltd.
Aboout Cummins
Cummins is a global pioneer in diesel, natural gas and battery technology, and is rapidly developing its fuel cell and hydrogen technology capabilities. Cummins' fuel cell and hydrogen technologies power a variety of application scenarios, including buses, trailers, trucks, garbage trucks and rail transit. In the past few years, the company invested in a number of fuel cell, hydrogen production,and hydrogen storage technology projects, including the acquisition of Hydrogenics in September 2019, which has improved Cummins' PEM and alkali electrolyzer and fuel cell capabilities.
Cummins also invested in LOOP Energy, signed a joint venture agreement with NPROXX, and invested in the development of solid oxide fuel cells.